Facilitation as a Service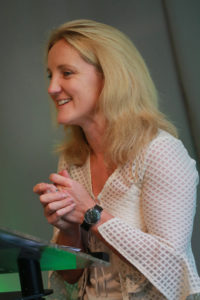 Jenny has over two decades experience in the organisation and facilitation of conferences, workshops, panel sessions and roundtable meetings. The approach requires close working relationships with event organisers and she takes pride in her attention to detail and 'out the box' thinking to keep audiences and participants engaged.
Over the past year, Jenny has designed, chaired and facilitated a range of online events, developing a whole new skill set to ensure maximum value can be extracted from what can often be a difficult format. These events have included the Annual Convention for the Scottish Rural and Islands Transport Community (which Jenny founded in 2018), and a range of monthly Cafes (Bring your own Cake) and discussion forums which are available to view on the SRITC website. For clients, Jenny has designed and developed and delivered Conference content, stakeholder workshops, community and drop in sessions, many if not all incorporating the design thinking principal of co-creation. If you haven't experienced a Jenny scavenger hunt online, then that is a must.
So How Can I Help You?
If you are thinking about running an event/workshop/panel session, large or small, please do get in contact to discuss. Help and Services include but are not limited to:
Assisting with event planning and design, be it attracting attendees for a workshop, consultation on tools and methods or the format of a conference – knowing what works best and how to differentiate yourself from the crowd is vital.
Understanding and engaging the target audience – delivering the right mix of length, topics and content, and interactive elements is key for an excellent experience.
Suggesting, finding and approaching speakers – telling a good story with engaging speakers who have character makes all the difference.
Coordinating and engaging with speakers (beforehand) –preparation work is key to a smooth event.
Chairing/hosting sessions from conferences to workshops – keeping the event to time, adding in humour and connecting with the audience are paramount.